The one podcast you need as a C-level Marketer, Director or Entrepreneur looking to rock your Business Growth. The Marketing Innovation Show is the official Podcast for our Global Digital Marketing Agency "Marketiu". With each episode, we bring you top performers in Marketing, Serial Entrepreneurs and renowned Digital Growth hackers. discussing top-edge Marketing Trends & Tactics, to help you skyrocket your success online. Topics will include Social Media Marketing, Strategy & Ads, Marketing Strategy, Performance Marketing & Google Ads Trends, Growth Hacking, Ecommerce, B2B Inbound Marketing & Lead Generation as well as Email Marketing & Automation. Tune in, and if you'd like us to cover specific subjects, let us know - we'll do it!
Episodes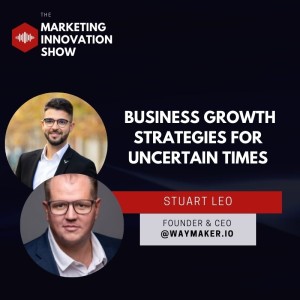 Thursday Apr 28, 2022
Thursday Apr 28, 2022
Join Andrei and our guest on today's episode, ​​𝐒𝐭𝐮𝐚𝐫𝐭 𝐋𝐞𝐨, as they will be discussing business growth, strategy, resilience building and leadership development in the current still uncertain global market. 𝐒𝐭𝐮𝐚𝐫𝐭 is the founder and CEO of Waymaker, an intelligent business management platform that helps leaders build a better business in 30 days.
𝐂𝐨𝐧𝐧𝐞𝐜𝐭 𝐰𝐢𝐭𝐡 ​​𝐒𝐭𝐮𝐚𝐫𝐭:  
𝑊𝑒𝑏𝑠𝑖𝑡𝑒: https://waymaker.io/
𝑆𝑡𝑢𝑎𝑟𝑡 𝑜𝑛 𝐿𝑖𝑛𝑘𝑒𝑑𝐼𝑛: https://www.linkedin.com/in/stuartleo/
𝐂𝐨𝐧𝐧𝐞𝐜𝐭 𝐰𝐢𝐭𝐡 𝐀𝐧𝐝𝐫𝐞𝐢:
𝑀𝑎𝑟𝑘𝑒𝑡𝑖𝑢: https://marketiu.com  / https://marketiu.ro   
𝐴𝑛𝑑𝑟𝑒𝑖 𝑜𝑛 𝐿𝑖𝑛𝑘𝑒𝑑𝑖𝑛: https://www.linkedin.com/in/andreitiu/   
𝑀𝑎𝑟𝑘𝑒𝑡𝑖𝑢 𝑜𝑛 𝐿𝑖𝑛𝑘𝑒𝑑𝑖𝑛: https://www.linkedin.com/company/marketiu   
𝑀𝑎𝑟𝑘𝑒𝑡𝑖𝑢 𝑜𝑛 𝑇𝑤𝑖𝑡𝑡𝑒𝑟: https://twitter.com/marketiuagency   
𝑀𝑎𝑟𝑘𝑒𝑡𝑖𝑢 𝑜𝑛 𝐼𝑛𝑠𝑡𝑎𝑔𝑟𝑎𝑚: https://www.instagram.com/marketiuagency/  
𝐸𝑚𝑎𝑖𝑙 𝑎𝑡 hello@marketiu.ro 
𝐋𝐢𝐬𝐭𝐞𝐧 𝐭𝐨 𝐭𝐡𝐞 𝐞𝐩𝐢𝐬𝐨𝐝𝐞 𝐨𝐧 𝐲𝐨𝐮𝐫 𝐟𝐚𝐯𝐨𝐮𝐫𝐢𝐭𝐞 𝐩𝐥𝐚𝐭𝐟𝐨𝐫𝐦:
▶️Watch the episode on YouTube: https://bit.ly/The-Marketing-Innovation-Show-YouTube 
▶️ Apple Podcasts: https://bit.ly/The-Marketing-Innovation-Show 
▶️ Podbean: https://bit.ly/The-Marketing-Innovation-Show-Podbean 
▶️ Spotify: https://bit.ly/The-Marketing-Innovation-Show-Spotify 
▶️ Deezer: https://bit.ly/The-Marketing-Innovation-Show-Deezer 
▶️ Stitcher: https://bit.ly/The-Marketing-Innovation-Show-Stitcher 
▶️ Castbox: https://bit.ly/The-Marketing-Innovation-Show-Castbox 
Episode transcript: 
​​Stuart Leo  
But at the end of the day, the job of a business is to solve a problem for customers go get more of those customers solving that problem and deliver value back to the community, society and shareholders. And that actually is a very fun journey. And the marketing discipline is central to that journey. So I love it. At some point, every business and business leader will get stuck. And we've developed an interesting set of tools and processes and algorithms that help those businesses get unstuck.
Andrei Tiu  
Hi, there! This is Andrei and you are on a new episode of The Marketing Innovation Podcast Show. Our special guest today is Stuart Leo, who is the founder and CEO of Waymaker, an intelligent business management platform that helps leaders build a better business in 30 days. And today, we'll discuss business growth, strategy, resilience building and leadership development in the current still uncertain global market. Stewart, it's a pleasure to have you on the show. How are you? Let's rock it all.
Stuart Leo  
Andrei, it's a pleasure to be here. Thank you so much for having me.
Andrei Tiu  
Pleasure is all mine. So let's see where we start because we have so many interesting topics that I hope we'd have time to go through today. I mean, probably a good starting point, actually, would be to introduce you a bit more to the audience. So giving you the stage a bit to tell us about your background, your story and the interesting stuff that you are doing at the moment.
Stuart Leo  
Okay. Well, I'll start with the now and then I'll move back to how I got to the now how does that sound?  Now I'm a startup founder, we have a platform called waymaker.io, which is an intelligent business management platform, there are some fluffy words, let me break that down and make it concrete. It's really four things. It's a method, it's a way of doing high-value strategic decision making. A method that gives you the highest value course of action every single time you go through the process. Two,  it's a software platform that is designed to run that, that process and embed continuous improvement and strategic compounding results across your business. And we might talk about how we achieve that. Three, we're an education community, sitting behind waymaker is a digital Academy, Waymaker Academy. That is a bunch of course content, toolkits, playbook frameworks, and stuff that helps people build a better business. And fourthly, whilst we're a startup, we are now a growing emerging community of leaders who love business and want to build better businesses and help leaders become better leaders in London, the US, Ireland, Scotland, Australia, New Zealand, and what unifies all of us is that passion for working with people and helping them find the clarity, alignment and outcomes to deliver some special results. That's what I do now. For about 10 or so years, I ran my own consulting practice. Before that, I grew up in a corporate world in marketing and management and product development. Before that, I was in some agencies doing classic agency side marketing stuff in advertising and stuff. And it actually grew up in my journey in business, through the marketing discipline. I love it. I'm an absolute sold-out believer in Peter Drucker's quote on there's marketing and innovation, and everything else in a business is an expense. And I know what he's trying to say, and I'm taking him slightly out of context there. But at the end of the day, the job of a business is to solve a problem for customers go get more of those customers solving that problem and deliver value back to the community, society and shareholders. And that actually is a very fun journey. And the marketing discipline is central to that journey. So I love it.
Andrei Tiu  
Looking at the way that you work right now with businesses where exactly are you bringing value into their journey or what type of businesses you guys are working with on a day to day basis?
Stuart Leo  
Our principal customers are business coaches and consultants Who, working with business leaders in improving their business. So we have two types of customers, the business coach or consultant that's using our platform within their business to diagnose businesses find opportunity gaps, and build strategic plans and outcomes. And then we have business customers who are using our platform to effectively run their business with greater clarity, improved alignment, and efficiency of results. That's the reason they would use waymaker. And they tend to be let me call them SMEs sort of five or 10, three to 500 plus ish. And, and we live in a world where we help businesses get unstuck. At some point, every business and business leader, whether they be the senior leader, or sitting on a leadership team will get stuck. And, and that business needs to get unstuck. And we've developed an interesting set of tools and processes and algorithms that help those businesses get unstuck. So we might talk about some of those, that principle tool is a method, it's a way of thinking, built off winemakers leadership curve, which is a really a sense-making framework that helps leaders and their teams make sense of the marketplace and the business they have. And then in doing so, ask and answer is a process, we call the seven questions, which help them find the highest very course of action to go and execute. And we learned that from, from your neck of the woods from the British military, and we, we saw what the British military did to transform their day to day operational thinking and decision making and strategic planning on the battlefield. And that was transformational for the British military. So I might as well tell that story because I think that's interesting as the British military, is that, okay?
Andrei Tiu  
Yeah, sure. Let's go straight into it. I was about to ask, before we go into the story, just for the audience to get a feel of the type of situation that these businesses are in and they may find they would be more or less in the same? Or have been or had been? What type of stuck, do you mean, stuck in terms of growth stuck, stuck in terms of people?
Stuart Leo  
Yeah, we talk about stuckness. In three types of stuckness, if I can use that language. The first type of stuckness is and I hope listeners and yourself will align. And yeah, remember that is that moment when you realise you're incredibly busy, you're doing lots of stuff, but you're spinning your wheels, and you're actually not moving forward, you're potentially spinning wheels and sliding backwards. And, and that's the first kind of stuckness. And the second type of stuckness is okay, we've had a level of success with we're growing, we seem to be getting some things happening for us, found our market found our customer, but we've hit a brick wall, we've hit a ceiling. And for some reason, it doesn't matter what we try, or what we do, we can't seem to find a breakthrough in that next phase. It's just a brick wall in front of us. So we, you feel stalled. So we call that the stall stuckness. The first one is spinning wheels, everybody's busy, but not effective. The second one is everybody's busy, but you just you know, breakthrough whatsoever. You've hit a brick wall as a business as a team. And the third is very much around owners or senior leaders, where you may have built a business, a level of success, but you're trapped within that business, you've actually built a business around you, it's too hard for you to get out of it now. So you're constantly stuck in it. And that could be your team could be your function, your discipline as a marketing leader, or as a sales leader or as a business owner. And so how do you extract yourself out of that and move on to the next challenge either the next role or as an owner, move from Doer to the owner, and enjoy those benefits you get lifestyle benefits, the financial benefits. So those three types of stuckness happen to every business at some point, at least for more than once and so we help those kinds of organisations, a stop spinning wheels. If there are 20 people in that team, they're probably going in 30 different directions. We help them get clarity with goals, and clear outcomes, refocus that energy into a sharper focus and get wheels turning and spinning. If you hit a brick wall, our diagnostic in our platform, which picks up to 300 pieces of data across a business will surface gaps and opportunities. And you'll see where your next possible investments in skills and systems will achieve a breakthrough. And lastly, if you're trapped, then our methodology is a great way of embedding and empowering others around you to build the business with you. So you can shift some of that responsibility from your shoulders to others. That kind of makes sense?
Andrei Tiu  
Yep, it does. Thank you for clarifying. And now we can go into the story.
Stuart Leo  
Sure, yeah. It was interesting. I was coming out of corporate life 10-15 years ago. And I read some case studies and some articles on the British military as they were coming out of the 20th century into the 21st century. And in the 20th century. The theatre of war, and I mean, the world is in a state of flux at the moment. So this is relevant, but sometimes hard to talk about. But in the late 20th century, the theatre of war was changing dramatically and was moving from a very traditional structure. Probably the last traditional war that was ever had was perhaps the first Gulf War, everything since then it's been very non-traditional. And, and as that was shifting and changing from the traditional to the non-traditional. The need to be more agile, to be more adaptive, to be more decentralised to make decisions faster, was a pressing, pressing need, and the British military was, was looking at how they made decisions on the battlefield, has commanders and leaders and realise that the way they did a classic battle plan, you know, as marketers would call those campaign plans, was incredibly ineffective. It was time-consuming. It was resource-heavy, it was complicated and complex. And it was not going to work in this new world emerging. And the way the British military solved that was to step back and say, let's, let's simplify. And they developed a small number of questions happen to be seven questions that they taught leaders from Lance Corporal up to general, to ask an answer. If you were developing a battle plan, just seven questions. And if you asked and answered these seven questions, you would develop the highest value course of action to reach the mission objective, and the tactics to execute. And it was transformational to the way leaders thought acted and behaved on the battlefield. And, and so I was reading about this coming out of corporate life, moving into a consulting life thinking, My goodness, I've come from corporate life. I have loved corporate life. There are lots of zeros on budgets and bank cards and all those wonderful things. But there were also lots of committees and bureaucracy and politics. And I remember thinking, gosh, if the British military, one of the most traditional stuffy organisations in the world, no offence intended to my British counterparts, could transform the way they developed these plans and the way they made decisions on the battlefield, then surely, regular old day to day business could because they have the same problem. In the last 20 years, we have had significant financial disruption, significant geopolitical disruption, significant health disruptions, digital disruptions, you name it. If you've grown up in the last 15-20 years, of business and marketing and leadership, well, every few years, something comes along that kind of waxy across the face saying hello. And, and so businesses need it needs something like what the military had. To cut a long story short. It was how do we do what they did? And if anybody can go and google the British military seven questions, it's a method of developing a combat estimate. But it's designed to blow something up. It's designed to, you know, destroy. In business, we've got different objectives. We're out to build something up. We're out to find a customer who loves them solves a problem and does not leave distractions. Believe the opposite, hopefully, although sometimes you need to do the former. And so we set about building. And that's pretty much where the story starts with the British military. We said what if we could do in the business world what the British military did in the theatre of war? Could we arm leaders with a small number of questions that if they asked and answered regularly, would do what happened to the military and which was a decentralised the organisation push decision making powers to those closest to the problems to flatten the organisation? And, and ensure that if from Lance Corporal to general, there's a language of strategic decision making, and three, create agility and adaption in, in decision making and leadership.
Stuart Leo  
The seven questions can be asked and answered on the battlefield, hunkered down behind some Humvees putting the battle plan together in 30-45 minutes. Or they can be asked and answered back at HQ over 2,3,4 days, and you can put a complicated plan together. And business is no different. Sometimes it hits the fan and you got to stop and you gotta go. Right. In an hour's time. We didn't action plan for the next three weeks. Asking, here are the seven questions, you'll walk out with an action plan. Or sometimes it's the annual end of your strategic planning session, let's go away for a day or two. And let's have some deep thinking awesome, asking to answer the seven questions. So I think you're starting to get what this methodology is, and, and kind of just like the military, when they're asking and answering those questions on the battlefield, they're holding some software in their hands. And so we thought, let's go build some software. Let's go build a diagnostic tool and some strategic planning tools that empower you to more intelligently ask and answer those seven questions kind of like the military. And that's sort of what waymaker is. It helps you narrow and focus on your customer. By asking answering those seven questions. Keeping the organisation clear and aligned around who the customer is the problem you're solving, the value you're creating, and the actions that are the highest priorities in order to realise that value, whether that be in sales, marketing, service, team, employee, HR, wherever. And that's what we teach. That's what we teach people to do. We teach coaches and consultants to ask and answer those seven questions. And we provide the software for them to execute. That's kind of making some sort of sense for you.
Andrei Tiu  
And the natural I guess, the question here would be and I think this forms a basis for the following questions that I had. And I want you to go through with you which were revolving around growth strategy and planning resilience in this current market scenario/circumstances. But just to make it easy for people tuning in that wonder what these seven questions are?
Stuart Leo  
What are they? Yeah, you can anybody can go and get these seven questions from our website, is it we make a die, I hit the Learn tab, two or three options down, you'll see why makers leadership curve, it's got a thing you can download and screen view and see it. At face value, they're not overly complicated questions. One is what is our vision? Is it driven by purpose? What are the roadblocks to achieving it? Pretty simple. But in order to answer that, you got to understand your vision, you got to understand your purpose, and you got to understand the problem itself your customer question what their market is? Who is their ideal customer? What do they value? Therefore? What perceptions do we need to build? Okay? To be able to answer that, what market is to be playing? Awesome. How do we niche and segment into that market to find our ideal customer? What do they really value? That ideal customer? And therefore, what perception should they be holding about us our business and the products we serve the products we deliver? If you can answer that, then you're starting to go excellent. I understand my market, I understand my customers, and they're very drivers. I understand what they think about us already, what they do, what they should be thinking about us what those gaps are, and the gaps. We've got a close. That's classic brand management stuff.
Andrei Tiu  
I was about to say that there is a lot of marketing here.
Stuart Leo  
There is because I firmly believe outside of marketing, and innovation, everything else is an expense. And at the end of the day, our job as an organisation or business is to solve a problem. And there's, I think there are two things. I'm going to go off on a little side rant here and you can pull me back in line if you don't like it, but I think I think the world of marketing has made two fundamental errors in the last 10 to 20 years. One It's made purpose about issues not related to the problem you solve. And to it's through the technology explosion. It's become more about tactics and execution and less about strategic thinking. In Old World marketing words, we would say it's become a one P marketing. It's just about promotions and advertising. We've forgotten about product and place and distribution. Sorry, pricing to get my old marketing four Ps off the top of my head. So those two things have been to scope shifts that marketing has been through one, it's, it's fallen into the trap of thinking about purpose as something outside the organisation. Now an organisation has one single purpose which is to solve a problem for a customer, your purpose exists around that problem. When you answer the question, we exist to your writing a purpose statement. If you're Netflix, we exist, to give a platform for content creators to get to their audience anywhere in the world. That's why they exist, that is the problem they solve. That is their purpose in life. If your Facebook exists to connect people all around the world, this makes sense. And so as marketers, we have to own that, that is actually a central truth inside the organisation. And if we are not thinking about that problem, owning the solving of that problem, we're not being strategic marketers. And I think a lot a lot of times marketing gets caught in tactics and execution because tactics and execution are so complicated today, you don't look at Martex's classic canvas of technology providers in marketing, I remember when they came out with the first one, and there was like 500 on it, and then there was 1000. And then there's 2003 years later, and now they've just even stopped putting logos on the page because it's at 5678 9000. It doesn't even work. You know, as a marketer. When I grew up as a marketer, I had some pretty simple decisions when it came to media, buy print, television, direct radio, signage, you know, it really didn't get much more complicated that got a million dollars to spend, how am I going to slice and dice it? Today, that's a very different world. So I think that the world has allowed marketers to get off being marketers. If Drucker was right, where he said in an organisation, there's marketing, and there's innovation, and everything else is an expense. Then as marketers, we've got to step back into leadership positions and go hang on a minute, I'm on the market in this organisation. I'm the marketing manager, I'm the Marketing Director, I'm the VP of marketing, or I'm the marketing person. Okay. What problems does this organisation so do we solve them? Well, what products are we buying a building? And what services are we building that solve this product amazingly well, and get that marketing conversation going? So that organisations are purpose-driven, that own the problem, they're solving for their customer, and deliver excellence and achieve amazing outcomes? Okay, rant aside. I think there's a wonderful opportunity for strategic marketers to step up and lead. So when we think about the seven questions, we are thinking about the customer, the problem we solve for them, and how we start building the organisation around that. And, and so, yes, there's a heavy influence on marketing, as we build that out. And if I answered your question there, I certainly threw some food for thought on the table.
Andrei Tiu  
Yep. And you set the ground for the first of the not so very long list, but I think it's good that he's not long, because I want us to go a bit more in-depth with the answers and the discussion here. So the first question that I think would be the goal here is, I want you to pick your brains on how do you feel about growth planning and growth strategy in this current market situation? I mean, because we are coming after a pandemic, and we have, you know, the military conflict that is in Europe, which affects a lot internationally. So this is a reoccurring issue that I personally find talking with clients but also us as an organisation fine in the different areas we activate. So how do you feel about it? What's your take?
Stuart Leo  
I think COVID has accelerated, societal, economic, social, and geopolitical changes that were already in place. And what's happened is that sometimes the world changes and it's a bit like boiling a frog. If you have that phrase in the UK or the US, does that make sense? We don't have it. Okay, yeah. So when you boil the frog, you put a frog in the water and you start turning the heat up, and it gradually gets hotter and hotter and hotter until the frog boils. But the frog never knows it's boiling it so it never hops out of the water. That's kind of the point of the site. What's happened with COVID Is the water stopped getting slowly and gradually hotter. And it got hot, fast. And everybody's realised, oh, wow, the world really has changed. And the world of the market has changed so much in the last 1015 years. And this is an I want to get into a bit of detail here to answer your question. If we go back to refer to some of my notes, but if we go back to 2006, there's a publish a report published by brand Z, one of the WPS brand tracking groups, and they published the top five brands by market valuation. And they were Microsoft. Sort of, let's call it 62 odd billion General Electric Coca Cola, China Mobile and Marlboro cigarettes. But that just thinking for a moment, that's 2006. It's not that long ago. It's somewhat kind of I'm looking at you thinking then you're probably still in school. But that's that could sound offensive, but you're motivating University. 
Andrei Tiu  
Yeah. I was thinking about cigarettes and how I mean, you know, having Marlboro, one of the top six is like, wow, okay.
Stuart Leo  
That's less than 20 years ago. So 2006, the top five brands, were Microsoft, GE, Coca Cola, China, mobile, and Melbourne. Fast forward five years. And I think these were the five years in Marketing Land that started to transform everything. Facebook was founded, oh, four, iPhone came out in oh seven. So between 2006 and 2012, had this rapid takeoff. The top five biggest brands in 2012. Apple, at 193 billion, followed by IBM, followed by Google, followed by McDonald's, he comes Microsoft, let's fast forward another five years, as societal change is accelerating. What are our five biggest brands in the world, Google, Apple, Microsoft, Amazon, Facebook, I should go and check their most recent because I probably just published last year, early this year, the last five? And you're probably going to see a Tik Tok in there, maybe a Tesla. The point here is if we look at those brands in 2006, that were the biggest brands in the world. And we look at those brands in 2017 that was the biggest brand in the world, you know what's changed. And the biggest change is, is a digital revolution, a new way of working. And so this, this new way of working, a new way of living, has transformed our traditional brand landscape in terms of value. And that has transformed the way we work we have absolutely moved from an industrialised economy to a services economy to an experiential economy, which a couple of economic riders published a book in the 90s called the experience economy. And that has happened that and we see that in brands today. And so it experiences economy. It's a very different way of working. I think it was culture out last week, released their latest report on hybrid and working from home. I think the number was about 88% preference for working from home, or at worst hybrid across employees across the western world. That isn't an astonishing stat. headlines coming out today. Eric Schmidt, former CEO and current chairman of Google, I'm a traditionalist. And in fact, I took a screenshot of this thinking about this podcast that I would be I'd be on and have a listen to this. This is an amazing quote from Eric Schmidt. I'll just literally open it up right now. X, Google CEO, Eric Schmidt on why in office work is better. I don't know how you build great management virtually. Now if that doesn't sound like a dinosaur running one of the world's biggest technology companies. We are in the next evolution and revolution. These were the guys that revolutionised it 10-15 years ago. The market is saying 88% prefer working from home or hybrid and the chairman of one of the world's biggest technology companies is saying Ireland, how you build great management virtually everybody gets back into the office? Can you see the context here?
Andrei Tiu  
There's a new wave coming.
Stuart Leo  
Coming? It's here man. And some of the biggest and best strategic leaders of the last wave are still holding on to the last wave going, how's this gonna work. And so this affects how we think, how we plan how we execute. And, and so we are in a world that is different. And we've got to pick up some tools and some thinking a little bit like what the British military did and think differently. I'll give you an example of strategic planning, and decision making. The most common methodology and strategic planning decision making for organisations in the 20th century was a thing called the balanced scorecard. You've probably as marketers, we're probably provided data up into it. You know, classic vision, mission values, a bunch of strategic KPIs balanced scorecard, the world is stable, everything's organised, let's balance. Okay, when was the last time you had perfect balance inside an organisation? You know, that's, that's we're going back a generation or two now. So balance isn't the thing we should be striving for isn't. What we should be striving for, is the capacity to be adaptive and agile in order to achieve goals and outcomes. Regardless of the balance, that we've got to adjust and move along the way, you know, one of my favourite quotes from one of the old 1970s motivational speakers a guy called Zig Ziglar was it doesn't matter the way the wind blows, it matters how you set the sails. And I still think that's so powerful years later. Because as marketers, we were very good at zigging and zagging. We're very good at tactically moving and moving around. And that is a skill that is needed today, what we have to learn how to do is to shift from the thinking of a world that is stable, where we can plan three, five and 10 years ahead and work backwards from that and say, right, I've got to flip that on its head. In the old way, we'd write a five-year vision or a 10-year plan. And we'd work backwards saying, Okay, if we've got to be there in 10 years, then let's, we've got to be there in eight years, and there in five years. And except, well, that's, that's ridiculous. Most people probably can't work out where they want to be in six months in the current climate. So what you've got to do it, you've got to say, well, maybe in three to five years, a goal where we could be looks amazing, looks like this. But you know what? Now we're not going to worry about where we need to be in two years, we're just going to worry about where we need to be in 12 weeks or 24 weeks. What have we got to do now, that puts us in the best position in 12 or 24 weeks to say, what have we got to do now, in order to get to that thing in two or three years' time? Does that make sense?
Andrei Tiu  
I was hoping you say that, because this is exactly what we are, you know, I will go in the marketing sort of perspective now. Just to match it with your business approach as well. This is exactly what we were talking about with most of our clients because it's so uncertain like nobody was expecting war, when COVID was, seemingly coming to an end. So you know, you can't really count on much these days, especially when it's so much at stake - long term. So the best you can do is just make sure you get the most out of the current situation. And then you know, as you navigate well
Stuart Leo  
But that doesn't mean we throw away principles and how we work together. In fact, those things matter more. So what we've got to do as marketers go, I probably can't write you a one or two-year marketing strategy. But I could put a strategic goal in place for one or two years. And what I can tell you is how we can build an operating rhythm to make effective decisions based on data on whatever the cycle is, we need to operate on weekly, monthly, daily, whatever it's going to look like, starting with quarterly as a marketing operation. What are we going to achieve in the next 12 weeks that get our organisation to the best possible position? Awesome, let's do that. And every week, let's turn the sales to getting there. And so we need to design a way of doing that together. We need to think about the way we work together more than the things we want to achieve together. That's a big difference. In the old way, we'd think about more with thinking more about what we wanted to achieve together and less about how we had worked together. Because the world was kind of stable. And we could, we could apply the same rules that work last decade to the next decade, that don't exist today, we've actually got to get smaller, in order to get bigger, we've actually got to get deeper together in order to achieve greater things. Because we need to learn how to work well together because Long gone are the days of one market have been able to do everything, you have to have collaborative, internal and external hybrid teams functioning well together, which means you've got to step back. And the most important thing a good marketing leader can do today is to define how will we work together so that when we get on the field of play, we can adapt. And if we have that operating rhythm in place, okay, for what happens, will happen, we know how to come together and make decisions.
Andrei Tiu  
It also partly answered the second question that I had, which was around building resilience in this type of business, you know, in a world scenario. So if we were to sum our discussion up to a couple of actionable points that people listening today, can think about or maybe even implement in their routine, or in their approach to planning to help them be more resilient when it comes to unexpected changes or medium-term planning? What would they get from your perspective?
Stuart Leo  
Yeah, 100%. From my perspective, it's the operating cycle, and disciplines you put in place to gather the inputs required for decision making, have that decision-making process and execute those actions, and then rinse and repeat that cycle, which that's what we'd call an operating rhythm. And so the most practical thing you can do is think about that. I'll give you an example of somebody working recently in the tourism space. And they, they said, Okay, realistically, we work on a monthly cycle, thinking about forwarding bookings of 30 days for not sold, we can affect decisions in consumers and buyers, over that 30 day period through incentives, value adds packages, increasing spend, etc. Okay, so we need to actually have a 30-day cycle, where we're thinking about forwarding bookings and turning up the volume and the dials around multiple countries on how we execute that as a team. So if we can see that asset a in England is down and asset B in the United States is up, we need to turn the dial up on England and down on the US, you can get see where I'm going. We need a way of connecting revenue and operations management, marketing, digital media, we've got to have a way of working together that comes together every week or fortnight with a set of data inputs that we can make decisions around that just make sense is the way we work. Or the tactical execution, the thinking the strategy, excellent, that's going to happen there. So one of the most important things you can do to build resilience is to build a system. So my favourite analogy story on this is just a couple of months ago, I was watching something that must have been Facebook feed they go. And there's a NASA scientist up in the International Space Station. And he said he's taking questions from school students. And the question was what, what stops the International Space Station from, you know if something hits a bit of space junk or what stops it from bouncing off into space? And there is kind of simplistically two things. One, it's the Earth's orbit and the gravity that holds towards Earth. But what stops it from spinning wildly? Like it's a pretty big machine up there? What stops wobbling on that orbit? And explain the science of a gyroscope. And so he held up a little model of the space station, here's my Apple iPad pen. Let's pretend this is a gyroscope. There's a rod that a core and there's a space station wrapping around it. And he goes look, and he's in zero gravity if I hold this up, and he could take his hand off it because he was in zero gravity. I'm not so I'll use my other hand. And he goes if I tap this gyroscope like this tap in zero gravity, that little tap causes it to spin wildly off into space. You know, all are the scenes we saw in the movie Gravity with George Clooney and whoever. But he said let me Activate the gyroscope, any of the metal gyroscopes the core as marketers, we all know gyroscopes. That's what keeps the camera stable. When we were filming, he pulled the little cord and the gyroscope activated. And he goes, let me do it again. And he holds up a gyroscope, let me tap it and he just taps it, tap, the same tap just moves slightly. And he goes, Look, I can change the axis. And he goes, I'll tap it again, taps it, and it just moves, but it doesn't change access. He said the gyroscope is the cycle, the strength in the core spinning, that when change happens, doesn't send the space station off into chaos. And I think you're about to connect the dots here, if not already, the operating rhythm you put into your decision making cycles, is the core is the gyroscope holding your organisation together building resilience, so that if you know how to come together and make decisions in the face of change, then change can happen without causing you to spin off into chaos. 
Andrei Tiu  
Very good analogy. Very good.
Stuart Leo  
The and I bet there are marketers listening to this, that, you know, put a campaign plan together. And three days later in walks, the CEO said, Oh, we're going to do this and it changes. And so you go and start working on something else, oh, we've got to do this, and it changes. And so you've got decisions being made outside of an operating rhythm, uncoordinated, creating chaos, with no stability and structure. That's not resilience. Resilience comes from this cycle, of the core structure. So the greatest thing we can do as marketing leaders is to figure out what that core is, how do we make decisions? How do we start that spinning cycle, if there are 12 weeks in a year, and it's we're going to have that spinning cycle on a monthly cycle, we've spent that 12 times that's a hell of a lot better than once writing one marketing plan, isn't it? Sometimes it's a fortnight. So if you can spin that more often in your organisation with stability, and you can bounce off decisions and come back and bounce off more decisions, you can sustain change. And that's exactly what the British military did with these seven questions. They developed a leadership and decision making methodology that was cyclical, continuous, and created stability, for change to happen. Because change can only happen on a foundation of stability. It cannot happen on a foundation of constant change. That's instability. Does that make sense? So we have to as marketers, in this world of chaos and change, come back in and develop that core for our businesses, because that's our job as marketers, we have to go out and communicate, launch products affect change. And the great companies do this. Look at Apple. Every March, every September, drop a July Developers Conference in the middle there, there's a structure, there's an operating rhythm, we're going to launch software in March, we're going to launch the product in September, we're gonna get our partners together in July, we're gonna hang out a year off, that doesn't work. Heck, yeah, it works. Just look at the way they launch products. So the best thing you can do as a strategic marketing leader works out how to build that resilience.
Andrei Tiu  
I love how we made a full circle here and how you get back to the initial story. Very good analogy as well. And I think this is a great insight for every, you know, just to wrap up all of our discussion into a couple of action, actionable points. I very much agree with you. This is also what we tried to do internally as well, trying to be able to make decisions more often and review the strategy a bit more often. And guys, for you tuning in that maybe are depending on more people to make such decisions or such evaluations, probably as you are saying a good place to start to be just to make sure that everybody's on the same page, there is a good feedback loop in place internally. And then you can sync upon making these types of strategic decisions as you implement and as you encounter changes in the economic space or political or anything that might affect great stuff, Stuart. As we are getting close to the end of this episode. What gets you excited for the coming weeks months? What are you guys planning with the business? Any good advice or insights that you'd like to share with our listeners?
Stuart Leo  
I'm a product guy, I love making products in our world, that's digital products and software tools and new features. So we've got some pretty exciting stuff coming up over the next quarter or two. Which if I told you I'd have to kill you so I want to talk about but you know, I What gets me excited. And is the thinking we can do as marketers and all include me as a marketer in this because we all are around, where's the opportunity? Where's the pain? How can we create something that solves that for a customer, and creates value for them? And when you can build those kinds of products, whether you're in tourism or property or professional services, or software and tech, it's the same thing. And, and that's what gets me out of bed. That's, that's what I love to play in, almost to the detriment sometimes. So yeah, I get excited about those things. We're launching, some new products within our platform. So that effectively features I'm also excited, to be honest, there's a lot of change, and there's a lot of chaos in this world. But that doesn't mean we have to be fearful. You know, courage is not the absence of fear. Courage is the ability to make decisions in moments of fear and take action on them. And so I think, these are the times as humans as people, as colleagues, as friends, as patriots, we step back and we go, You know what, building good businesses matters. It builds good outcomes in society. Good products, make people's lives better, and people's lives are better. They, tend not to fight with each other. That's a good thing. So we as business owners, leaders, and marketers, actually need to have the courage to wisely take the next investments into the next into these next waves into this next period of change. And our forefathers did it. You go back to the 1920s, the 1930s 40s 50s 60s. This isn't new. It's what they say about history, the best thing we know about history isn't the repeats, sadly. And so we have to look forward into the future with a good dose of boldness and courage and go yeah, these, this isn't insurmountable, this is winnable, this is over comparable. Let's figure out how to do it. And that I think is exciting. Because that is why marketers were born under the face of this earth. Because you guys are the problems. solvers, the creative thinking is in the innovators, inside the company. Everybody else's counting numbers, putting widgets together, markets have the best job in the world go and do the best way possible.
Andrei Tiu  
Great stuff, okay. And as waymaker, I know you guys have a free trial as well if there are people on the show that would like to see more of what you do, and maybe start using the tools that you make available.
Stuart Leo  
Of course, yeah, shameless plug, let's go. If you're somebody, thinking of becoming a coach or a consultant, talk to us about an amazing partner programme. If it's somebody who is a coach or consultant, and you're looking to improve the way you do that, save a lot of time create a lot of value, and increased customer lifetime value, then we help with that. And if you're a marketer, or a business leader going actually what you're talking about makes a lot of sense. How can we do that in our organisation? Just go and take a free trial, spin up the diagnostic, ask and answer several questions, and see where you land. Reach out to me, I'll connect you with our team. We'd love to help you.
Andrei Tiu  
Thanks so much, Stuart! Guys, you'll have the links to all the platforms, including Stuart's LinkedIn profile as well. Stuart, if that's okay with you, for people to link in with you directly.
Stuart Leo  
I suck at socials. But I purposely manage my LinkedIn. So if you connect with me on LinkedIn, or connect with you, if you message me, I'll respond. And if you got a question, I'll answer it if I can. Doesn't have to be about, you know, buying stuff from us. But if I can put it in the right direction, I will. So reach out, say hi.
Andrei Tiu  
Appreciate it. Man. This was a great pleasure having the discussion with you. It's midday here. So this was better than the coffee
Stuart Leo  
Andrei, thanks so much for having me. And wish you the very best with the podcast. It's been a joy.
Andrei Tiu  
Same here. Thank you so much for all the insight. Guys, as always, thank you for tuning in and for staying with us until the end. For any questions feel free to pop us an email, write us to write, Stuart as well. Check out waymaker. And until next time, take care. Take action and looking forward to seeing you soon.